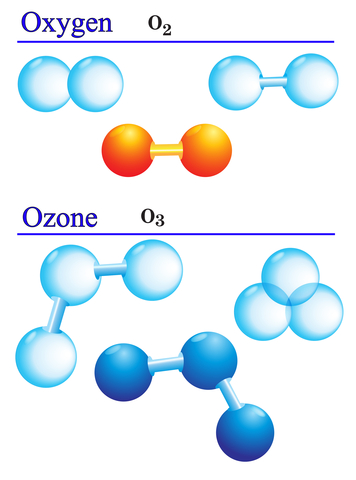 Ozone Therapy
Ozone is O3.  It is a naturally occurring part of the oxygen cycle in nature.  It is what you smell after a bolt of lightning goes through the air.  Ozone can be generated mechanically and used medically to aid a number of things.  Ozone is considered a reactive oxygen species (ROS).  That means that its third oxygen (oxygen is usually O2) is available for reactions with the things it comes in contact with.  A chemist would considered it an oxidizer.  Steel that comes in contact with oxygen will rust (thus rust is an oxidation reaction).  Tissues in the body that come in contact with oxygen have special chemicals that remove this oxidizing reaction (called antioxidants – this is why we don't "rust").  Almost all cells in the body have this potential, with the exception of the cornea of the eye and the lung tissue – both of which need oxygen to move across them (this is why ozone is not good to breathe in high concentration – it harms those cells).  What makes ozone effective medically is that bacteria, viruses, and fungi do not have these antioxidants, so ozone causes membrane disruption and death to these organisms.  That makes ozone effective at treating a number of disease states in the body.
Ozone can be added to water to create ozonated water for use to remove dental plaque and help fight tooth decay. It can also heal mouth ulcers.  It can be bubbled into olive oil and used as a salve on the skin to treat infections.  It low concentrations it can be breathed to help clear out sinus infections.  It can even be used in the blood to superoxgenate the tissues and stimulate the immune system.
To find out more about ozone and how it may be able to help you, please call the office.