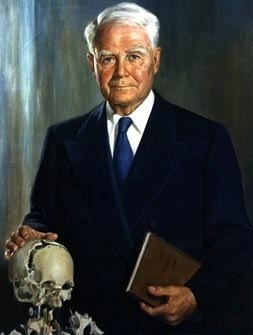 Cranial Osteopathy
William Garner Sutherland, DO (1873-1954), discovered, developed and taught Osteopathy in the Cranial Field in the early to mid-1900s.  While looking at a mounted human skull in Kirksville, MO while attending the American School of Osteopathy (now AT Still University), Dr. Sutherland noticed that two of the bones came together at the suture (articulation) in a way that reminded him of the gills of a fish.  That suggested to him that there might be motion in the head. Until that time, most anatomists taught that the head bones were fused.  Dr. Sutherland was the first to perceive a subtle palpable movement within the bones of the cranium. He went on to discover that this rhythmic fluid movement occurs throughout all tissues of the body.  The "Primary Respiratory Mechanism" as it was named, underlies all the body's metabolic processe .  It gives life, form and substance to all of anatomy and physiology. It drives all functions of the body.
The hands of a skilled osteopathic physician can connect directly with the primary respiratory mechanism and utilize it to bring about changes in the body.  Physicians trained in Cranial Osteopathy can place their hands on any part of the patient to perceive and influence this important mechanism. There is a dynamic interaction occurring during treatment where the D.O. senses mechanical restriction and obstructed fluid flow, makes a diagnosis, and then facilitates release.  It may be applied for the prevention and treatment of disease and enhancement of health.  It should not be confused with craniosacral therapy, which is practiced by some massage and physical therapists.
Cranial Osteopathy is helpful in treating headaches, head injuries, infants who have had difficult deliveries (strain to the head), plagiocephaly (asymmetric head), ear infections and sinus infections, and many more ailments. It has been performed with positive results for: otitis media, pregnancy, labor and delivery, seizure disorders, neurologic deficits, learning problems, dental problems, normalization of blood flow, and normalization of autonomic function to name just a few.  It is especially helpful for infants and newborns in relieving sleeplessness and colic.
When diagnosis and treatment is done on the head it addresses general patterns and specific restrictions which are present in the cranial membranes, between the cranial bones, within the bones (especially in infants and children when some bones are not fully formed), within areas of the brain, and of the fluids in the head (blood and cerebrospinal fluid).  A D.O. specializing in Cranial Osteopathy will not treat just the head; he or she will treat the pelvis, the sacrum, the vertebrae and ribs too.  This broad approach allows a total evaluation and treatment of the complex human body and can aid in finding the underlying cause of a patient's condition.
Proficiency Certification in Cranial Osteopathy
After completing at least two 40-hour courses in Osteopathy in the Cranial Field, a practitioner can go on to obtain Proficiency Certification in Cranial Osteopathy.  The requirements are:  A minimum of three year of practice experience utilizing cranial in your practice, submitting case study(s) for peer review and publication, and the successful passing of a specialized written, oral and practical exam.  Charlie completed this process and became certified in 2010.
Osteopathic Cranial Eyeglass Prescriptions
Expanding on the cranial concept, the physics principles of optics and the primary respiratory mechanism are utilized to "fine-tune" an eyeglass prescription.  This service is not a replacement for an eye exam from a qualified practitioner, but we do use the feedback from the cranial mechanism to give you the eyeglass prescription that will cause the least amount of physical strain possible when wearing your glasses.  After the glasses are made, the same principles are used to give a "unique to you" fit of the frames to the face.  This can be very helpful in those patients who suffer headaches or other ailments due to visual (eye) strain. Clinically, we have also seen improvements in the eyeglass prescription over time (your eyes need less correction to see).  While this is not universal, it happens frequently.  Working with your osteopath to maximize your eyeglass prescription can have a profound impact on your health.
If you would like to receive an eyeglass prescription please read my blog page to get more information.
Dental Cranial Osteopathy
Utilizing the principles of cranial osteopathy and applying knowledge of dental principles, your osteopath can work in conjunction with your dentist, orthodontist or oral surgeon to help alleviate symptoms caused in the body by the dentition.  These symptoms can be many – from an unsteady gait to vision difficulties.  Many of these symptoms (and unresolved dental problems) can lead to a compromised airway – and this can lead to chronic diseases later in life.  Osteopathicially working with a dentist can also help decrease the time required for wearing braces or other orthodontic devices and can result in a more permanent visual (aesthetic) and functional outcome with less strain placed on the head and body during the process.  By working with your osteopath and dentist, you can open your airway for optimal breathing and improved health as well as obtain a fantastic cosmetic result.
For more information, please see our osteopathic dentistry page.