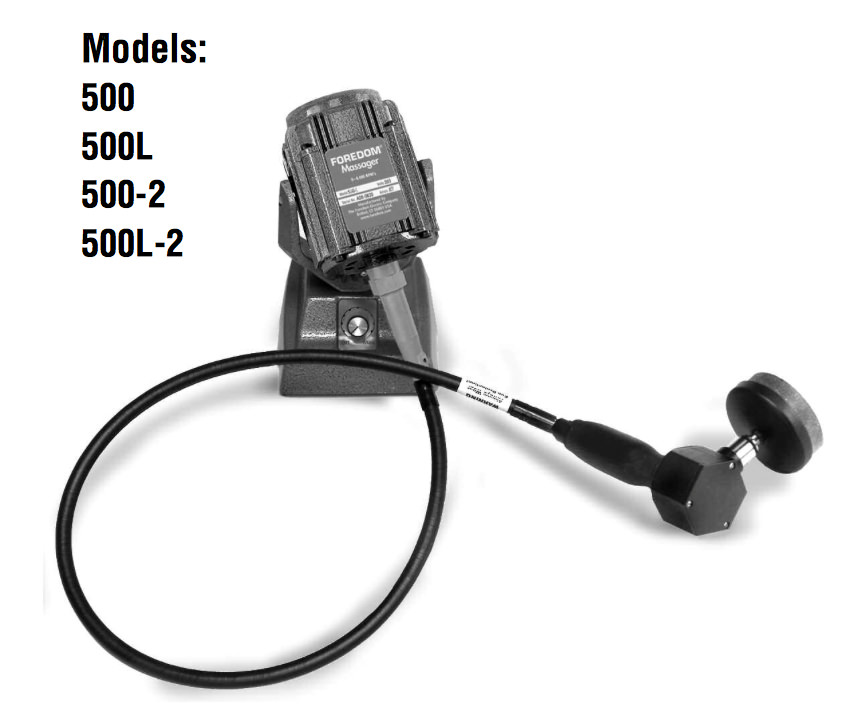 Foredom Percussor
FOREDOM PERCUSSOR  – Sales, Modification, Maintenance and Repair
The Foredom Massager (commonly called the Percussor) is made by the Foredom Electric Company, a division of BlackStone Industries, in Bethel, CT, USA.  Currently, it comes in two models.  Both are based around a robust motor that moves the pad out and back from the headpiece from speeds ranging from 0-4000 rpm.  The speed is controlled by a ¾ turn control with on/off switch located on the motor base.  The model 500 comes with a 39" shaft.  The model 500L comes with a slightly longer 66" shaft.  The 500-2 and 500L-2 are 220 volt models.  These come with a power cord with the proper plug for your country.
Call the office at 317-228-9270, or send a e-mail for pricing and shipping on all models and more information.  Volume discounts available.
If you already own a Foredom Percussor (commonly known as the percussion hammer) and it is in need of service or an overhaul, then this is the place to get your percussor serviced.  We can perform the following repairs:
Lubrication/cleaning of the motor, shaft, shaft housing, and head piece.  (this is recommended on any new percussor to extend the life of the components)
Replacement of broken/damaged parts.
Replacement of the pad and/or pad holder.
Replacement of the shaft and shaft housing – either with the same length or a longer/shorter length if available.
Replacement of the motor bushings.
Replacement of faulty switches or speed controls.
Repair and/or replacement of electrical cords.
Replacement/upgrade of motor control circuit boards.
Conversion of percussor to 220v with appropriate power cord for international use in your country.
We can also perform modification of the percussor speed control – by replacing the standard 3/4 turn speed control with a precision, linear taper 10-turn speed control, separate on/off switch, and then recalibrating the minimum and maximum speed, we can give you much more precise and tight control over your percussors speed and therapeutic effectiveness. It takes the percussor to an advanced treatment level and opens new avenues for your patient's healing process.
Call the office at 317-228-9270, or send a e-mail for pricing and more information on servicing your percussor